Disinfection Service in Singapore – NEA-certified, Non-Toxic, and Safe
With the global COVID-19 pandemic, it's now more important than ever to keep our homes and places of business safe and healthy for our loved ones, coworkers, and customers.
Greencare is a leading NEA-approved disinfection services company in Singapore. We aim to deliver a safer environment for all by providing high-quality disinfection services in Singapore.
Our highly-trained team of disinfection experts uses non-toxic, safe, and eco-friendly disinfectants. We are also equipped with the latest tools and technologies that disinfect, sanitise, and clean practically any type of surface. We take every possible measure to protect the safety and health of your staff and customers, and we aim to:
Kill off harmful bacteria and viruses (including coronaviruses like COVID-19), and stop the spread of germs and other pathogens at home or in any workplace in Singapore.
Remove any signs of dirt, grime, and uncleanliness from any surface you own.
Improve health through stronger living and working conditions for everyone you share space with.
Have total confidence that your home and/or workplace is safe for the functions that you intend.
COVID-19 disinfection service in Singapore
Fighting COVID-19 is a top priority at Greencare. Our disinfectant products are 99.99% effective against the COVID-19 virus, as well as a massive list of pathogens – including common bacteria, viral spread, and other forms of coronavirus.
We are an NEA-approved company for disinfection services across Singapore because we take precautions, we care about the end result, and we never take any risks with you – or anyone else's – health.
Organisations that have entrusted us with disinfecting their premises include:
Ministry of Health vaccination centres
Hospitals and clinics
Government offices and buildings
Offices and commercial buildings
Retail shops and shopping malls
Food & beverage outlets and kitchens
…and many other types of businesses
Residential homes may also require disinfection services if a resident is found to have contracted COVID-19.
Fight back against COVID with contactless disinfection chambers
We also provide professional services that are perfect for dealing with the modern pandemic we face. With our contactless disinfection chambers, everyone can stay safe. Family members, staff, and/or customers can be disinfected in moments without having to touch anything.
Contact us today if you would like to know more about our contactless disinfection chambers, or view more details below.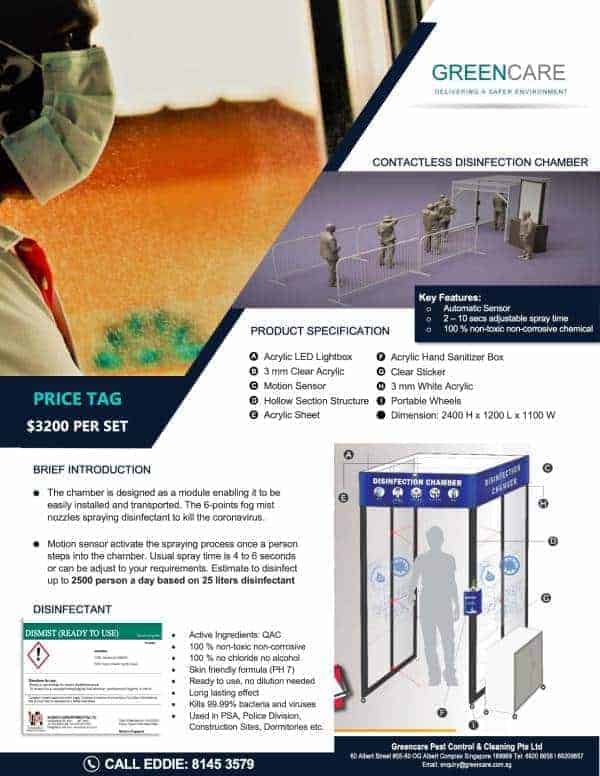 Cleanse every surface with ease – kill off 100% of germs, viruses, and bacteria
When running any kind of property, whether a home, a rental property or a commercial workplace, utter cleanliness is essential. This is why we use tools and techniques which can kill off 100% of all bacteria and viruses on any hard, non-porous surface.
We also thoroughly clean down any soft and/or porous surface, making sure that it is as clean as it can realistically be. By using a Toxicity Category IV disinfectant, too, we use a cleaning product with maximum strength and minimal available toxicity. This allows us to know that it can be used in environments where human contact with the cleaned surfaces is common.
We believe that this allows us to deliver a cleaning service that is thorough, friendly to humans and pets, and free from irritation. This means maximum cleaning with minimal threat.
How the Greencare disinfection service works
For years, we have provided a consistent and credible cleaning service for disinfection and long-term property care. We help with both residential and commercial properties, and are happy to start as and when you need our expert input.
Whether you are looking for a one-off cleaning service or a regular cleaning service, we are here to assist you in any way that we realistically can. Our process, then, will see us:
Thoroughly evaluate your property to work out what has to be cleaned and what needs to be sanitized further.
Meticulously clean and wipe down all surfaces that you will find across the property, using misting applications for best results.
Minimise contact and interference, making sure that surfaces that are cleaned are left spotless after we are finished.
Leave all surfaces to dry without any human interaction or input for as long as fifteen minutes, prolonging the quality and depth of cleaning.
Protect your long-term health with an e-Shield environment
As a cleaning specialist and disinfection service in Singapore, we provide many different cleaning aides. One of our most popular is E-SHIELD; a disinfection service that uses TECcare Control and TECcare Ultra. These are Food-Safe graded chemical that has fought off many pathogens for years. It is commonly used in areas where high contents of microbes can be found that might be harmful.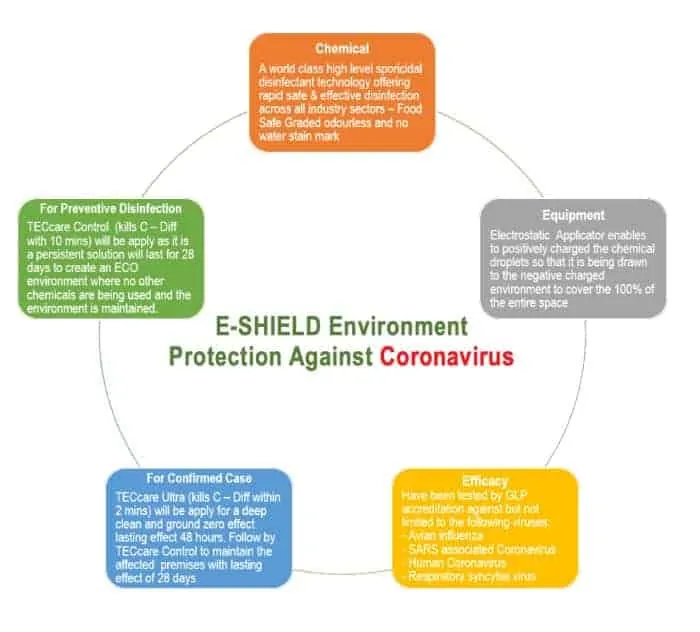 By using this solution, we know that we are working with a viral pathogen that has been tested with strong success on conditions such as Human coronavirus, Avian influenzas such as H1N1 and H3N2, SARS-associated coronaviruses, and Respiratory Syncytial viruses.
This allows you to know that are you using a disinfection service in Singapore that can kill off just about any issue you are facing. By sanitizing the entire area, you know that you are working with surfaces and locations totally safe to touch.
There is no reason why you should allow the fear of a surface being infected to cause problems. With our speedy service, you can get the kind of disinfection assistance that you need to make any property a safe place to reside, work, or visit.
Whether you are looking to take more precautions at home or you want to make sure your business is safe, contact us today to discuss your disinfection needs.
Sample Disinfection Service Reports
Watch our Greencare disinfection experts at work
Frequently Asked Questions
Does Greencare's disinfection service help with COVID-19 coronavirus?
Yes, we use high quality solutions that are approved by the National Environment Agency (NEA) for use in combating coronaviruses including COVID-19.
Is our disinfection service for businesses or homes?
We provide disinfection services for both businesses and homes.
Is our disinfection solution suitable for F&B businesses?
Yes, we use food-safe, non-toxic disinfection solutions that are compliant with the highest NEA standards when it comes to disinfection for food businesses.
Why is disinfection important for businesses?
Disinfection is important for businesses because it helps protect both customers and employees from harmful diseases, including those caused by coronaviruses. It is also mandatory by law to perform disinfection for many businesses, especially those in high-risk functions like healthcare, F&B, etc.
What are the prices for disinfection? How much does it cost?
Disinfection prices differ widely due to different business requirements, scope of work, and scale and type of the premises. Greencare prides itself for its reasonable and affordable prices. Click on the "Get Quote" button to get a quote!
 Special Promo for Businesses - Phase 2 (Heightened Measures)  
FREE Anti-Microbial Treatment

for Any Disinfection Service Purchased

To further support Singapore's businesses in this pandemic, Greencare is doing its part to offer FREE anti-microbial coating for any disinfection service purchased from us.

What is anti-microbial technology? Antimicrobial treatment creates an invisible coat on the surface of any material where it's applied. This transparent coating ruptures the outer skin of any coronavirus that tries to settle on the surface. A scientifically formulated antimicrobial coating can keep a surface 99.99% germ-free for nearly 90 days. Note: Due to overwhelming demand, do claim this free offer as soon as possible. While stocks last.