Protect Your Long-Term Health With An E-Shield Environment
As a cleaning specialist and disinfection service in Singapore, we provide many different cleaning aides. One of our most popular is E-SHIELD; a disinfection service that uses TECcare Control and TECcare Ultra. These are Food-Safe graded chemical that has fought off many pathogens for years. It is commonly used in areas where high contents of microbes can be found that might be harmful.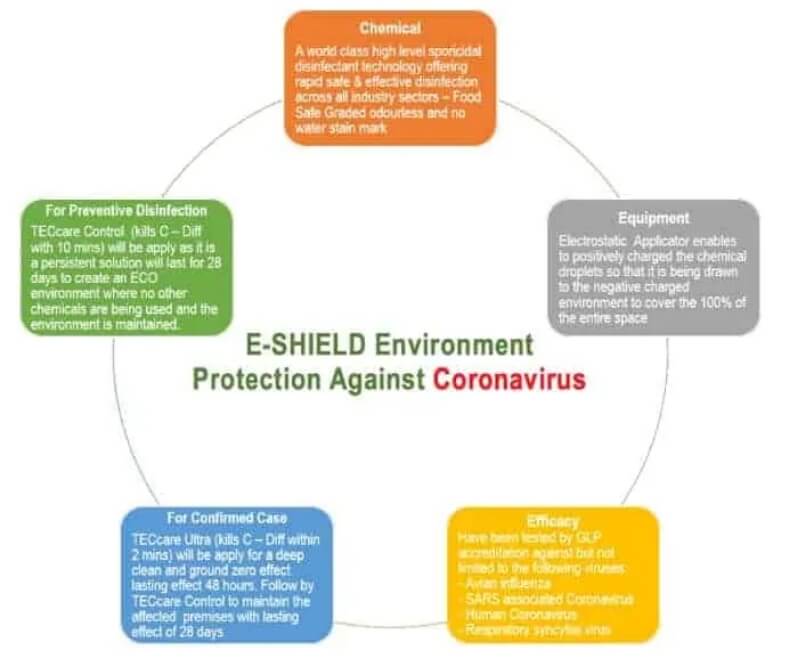 By using this solution, we know that we are working with a viral pathogen that has been tested with strong success on conditions such as Human coronavirus, Avian influenzas such as H1N1 and H3N2, SARS-associated coronaviruses, and Respiratory Syncytial viruses.
This allows you to know that are you using a disinfection service in Singapore that can kill off just about any issue you are facing. By sanitizing the entire area, you know that you are working with surfaces and locations totally safe to touch.
There is no reason why you should allow the fear of a surface being infected to cause problems. With our speedy service, you can get the kind of disinfection assistance that you need to make any property a safe place to reside, work, or visit.
Whether you are looking to take more precautions at home or you want to make sure your business is safe, contact us today to discuss your disinfection needs.